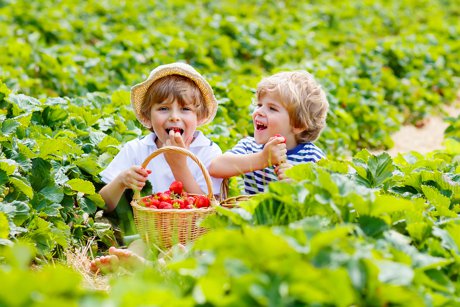 Find fresh fruits and veggies rich in flavor just around the corner from Xenia homes. Stop off at Jackson's Farm Market for produce right off the field. Seasonal products are expertly displayed in a colorful array. Friendly faces await customers as staff are ready and willing to offer suggestions and even recipes. The farm is open seven days a week and easily located at 2931 US Route 68 S. Hours are Monday through Saturday from 9 a.m. to 7 p.m. and on Sundays from 12 to 6 p.m.
Basketfuls Of Berries Overflow On Xenia Property
Many fruits such as summer strawberries can be hand picked creating a wonderful outing for families living in Xenia homes. Little ones love to fill baskets full of berries and often help to turn their efforts into delicious pies and jams. Seasonal peaches from Jackson's farm are just as readily raved about by locals. Nuts, honey and other goodies are usually found on the shelves as well.
Skip the crowd at the grocery store and shop in the fresh air instead. Make grocery time, family time at Jackson's Farm Market. Simple moments spent together create the best memories so have the kids help with the cooking as well. For more information on what's farm fresh, consumers can call 937.376.1778 before driving on out.